Behind the Bread
Snarf's Sandwiches opened its first location in Boulder, Colorado in 1996 in what is affectionately referred to as "The Shack." Since then, the family-owned business founded by Jimmy "Snarf" Seidel has grown to more than 25 restaurants in Boulder, Denver, St. Louis and Austin, Texas. Famous for its hearty, oven-toasted subs, Snarf's is a frequent "Best Sandwich" winner and has an unprecedented following in its local communities.
Snarf's is a destination for those looking for a fun atmosphere, down-to-earth people and an obsession with finding, and devouring, the perfect sandwich. Each oven-toasted sandwich is carefully made using exceptional ingredients, including generous portions of premium, handsliced meats and cheeses, Snarf's own blend of giardiniera peppers, and fresh, perfectly-crusty bread.
The menu features favorites such as The Italian, Prime Rib, French Dip and NY Steak. Snarf's also offers fresh salads with homemade dressings, rotating soups, kid-sized subs, vegetarian and gluten-free options, and a full catering menu.
From the building, to the furniture, to the incredible custom mosaics and artwork created by Colorado artist Jen Haley, each Snarf's restaurant is unique to that community. In many cases Snarf's takes an existing building and restores it, as opposed to starting from scratch. Jimmy doesn't like anything to be "cookie cutter" so each location is infused with custom, eclectic décor and design that creates the hip vibe Snarf's is known for, along with the craveable food.
Recent News!
Local sandwich chain opens newest location in east Denver neighborhood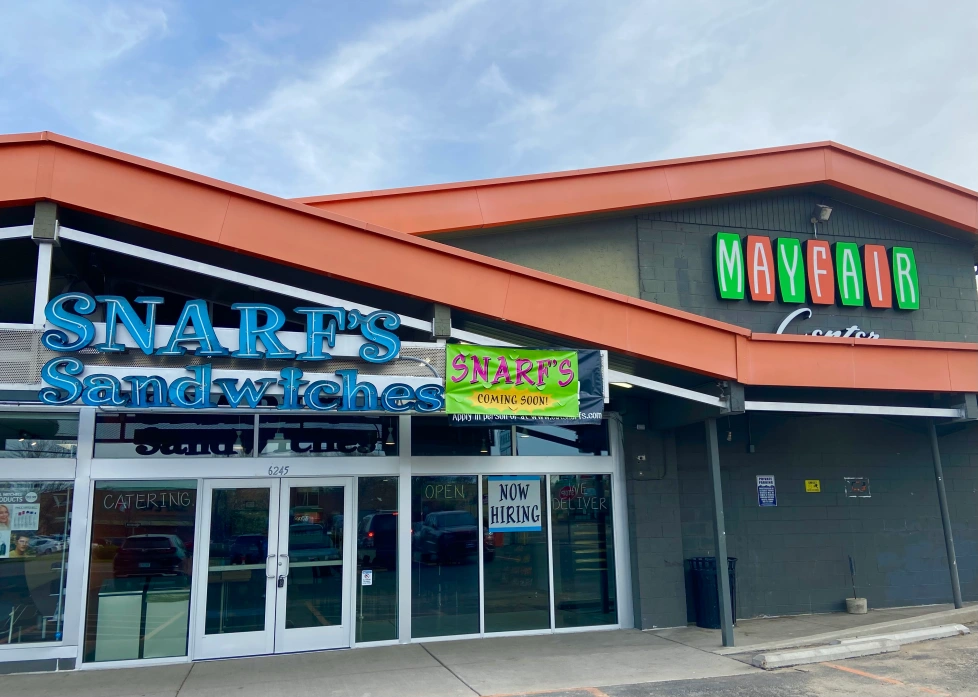 DENVER, CO. (May 10, 2023) - Denver Post:
Parking just got a lot harder in a neighborhood strip mall at 14th Avenue and Krameria Street.
Snarf's Sandwiches, the much-loved 27-year-old local chain, opened its 25th location on Monday at 6245 E. 14th Ave. in Denver's Montclair neighborhood.
It's just a few doors down from La Fillette, the popular former Hilltop bakery that moved and reopened as a restaurant in March — and immediately regained its avid following.
Media Inquiries
For media inquires contact:
Helen Wood | Director of Marketing
720.810.0496
marketing@eatsnarfs.com