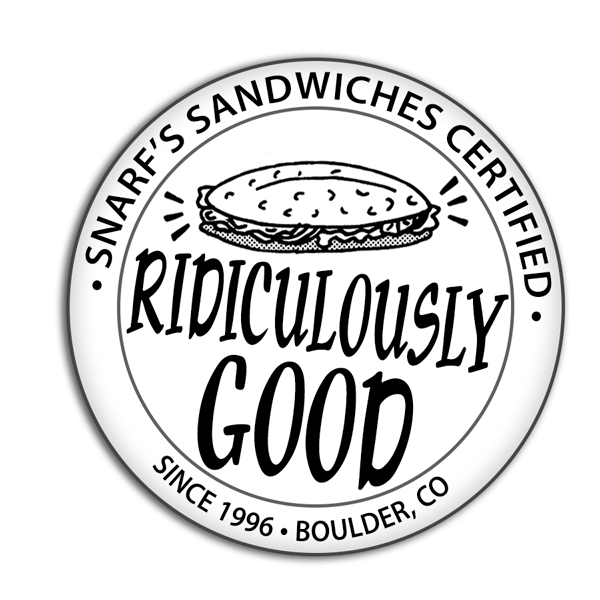 COLORADO AND AUSTIN
Please consider ordering directly through us by emailing catering@eatsnarfs.com or by calling your local store (preferably outside of lunch hours). While we appreciate our third party partners, they do take a high commission that affects our bottom line and ultimately our guests' wallets. By ordering directly from us it helps us keep costs down. Thank you for choosing Snarf's Catering!

To order online on ezCater, please click the button below and enter the address of your delivery. By entering your address first, the system populates the location closest in proximity to you, for ultimate freshness!
Order Online
---
Sandwich
Platters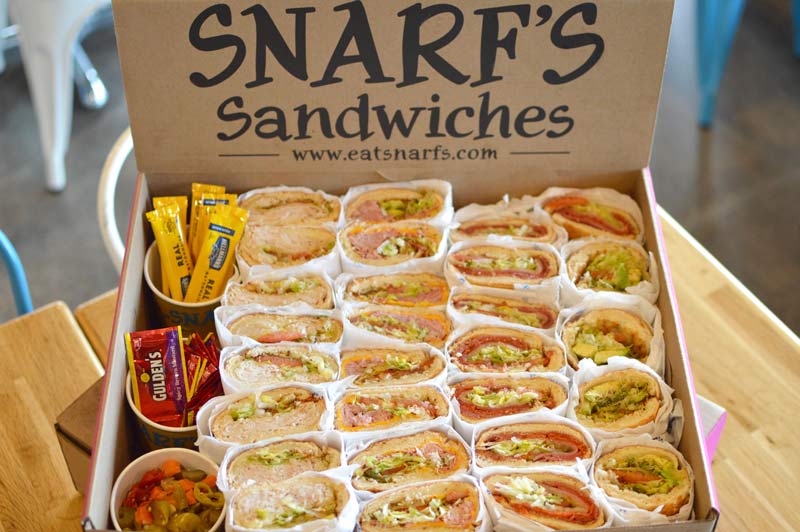 Variety of individually wrapped, sealed and labeled sandwiches
Select

14

Six-inch pieces or

28

Three-inch pieces
Each feeds 12-14 people
Choose from the following:
Italian Sandwich:

Salami, Pepperoni, Capicola, & Mortadella w/ Provolone

Roast Beef & Provolone
Turkey & Swiss Cheese
Ham & American Cheese
Tuna & American Cheese
Chicken Salad & Provolone
Bacon, Lettuce & Tomato
Rotisserie Chicken & Swiss
Cheese & Mushroom

American, Swiss & Provolone

Artichoke & Feta w/ Provolone
Vegetarian:

Avocado, Sprouts & Provolone
SERVED ON OUR FRESH-BAKED White or Wheat BREAD & MADE WITH: Lettuce, Tomato, Pickle, Seasoning & Oil
On the side: Mayo, Mustard & Giardiniera Peppers
* All sandwiches will be made with the same toppings
Box Lunches and Brown Bags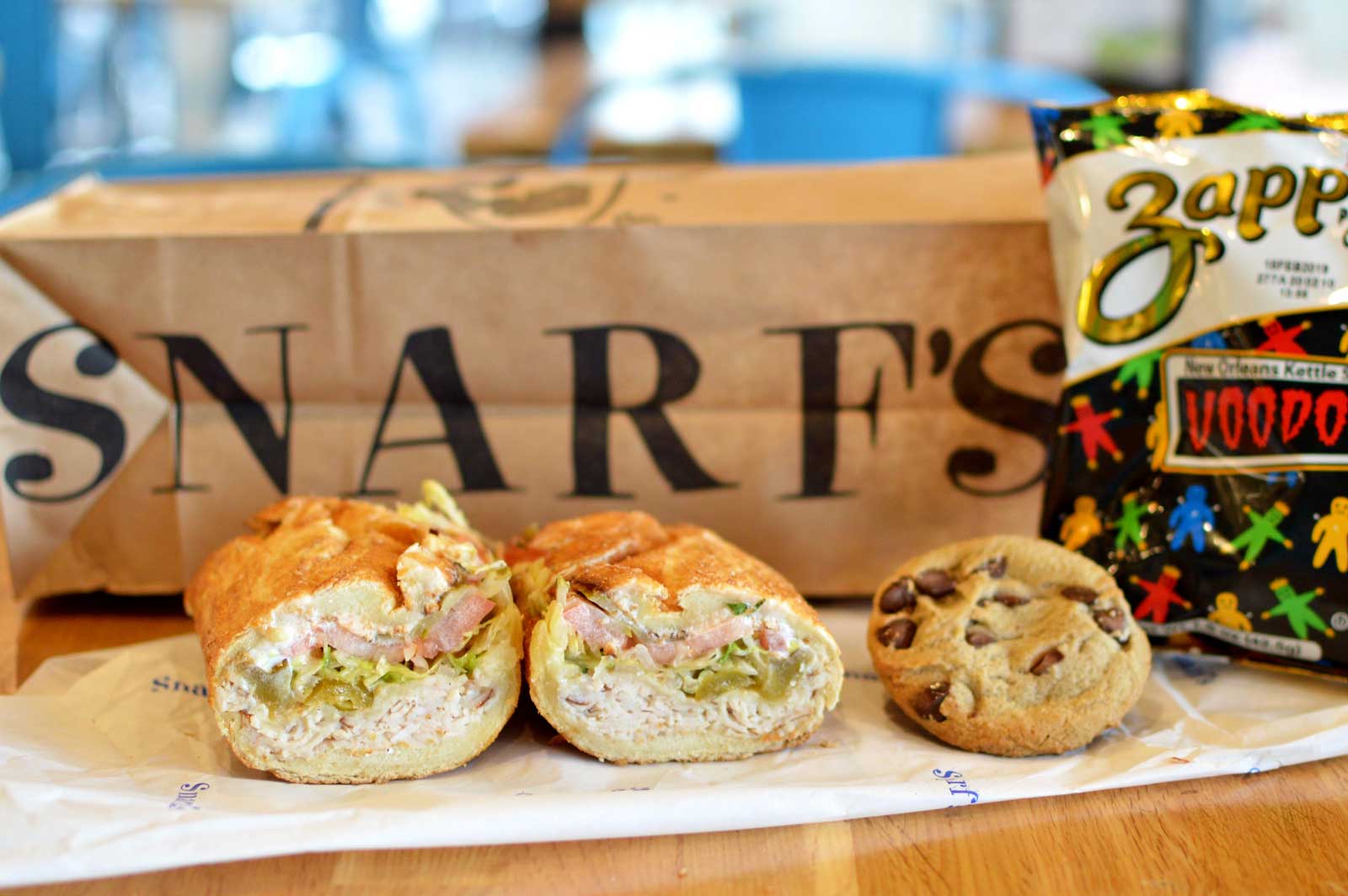 INDIVIDUAL
Box Lunches
7" Snarf's Sandwich
Chips
Choice of Side

potato salad, macaroni salad, coleslaw, big pickle or piece of fruit

Cookie
Brown Bags
7" Snarf's Sandwich
Chips
Cookie
GF
GLUTEN-FREE BREAD AVAILABLE
FOR PLATTERS OR BOXED/BAG LUNCHES
FOR ADDITIONAL COST
Party
Salads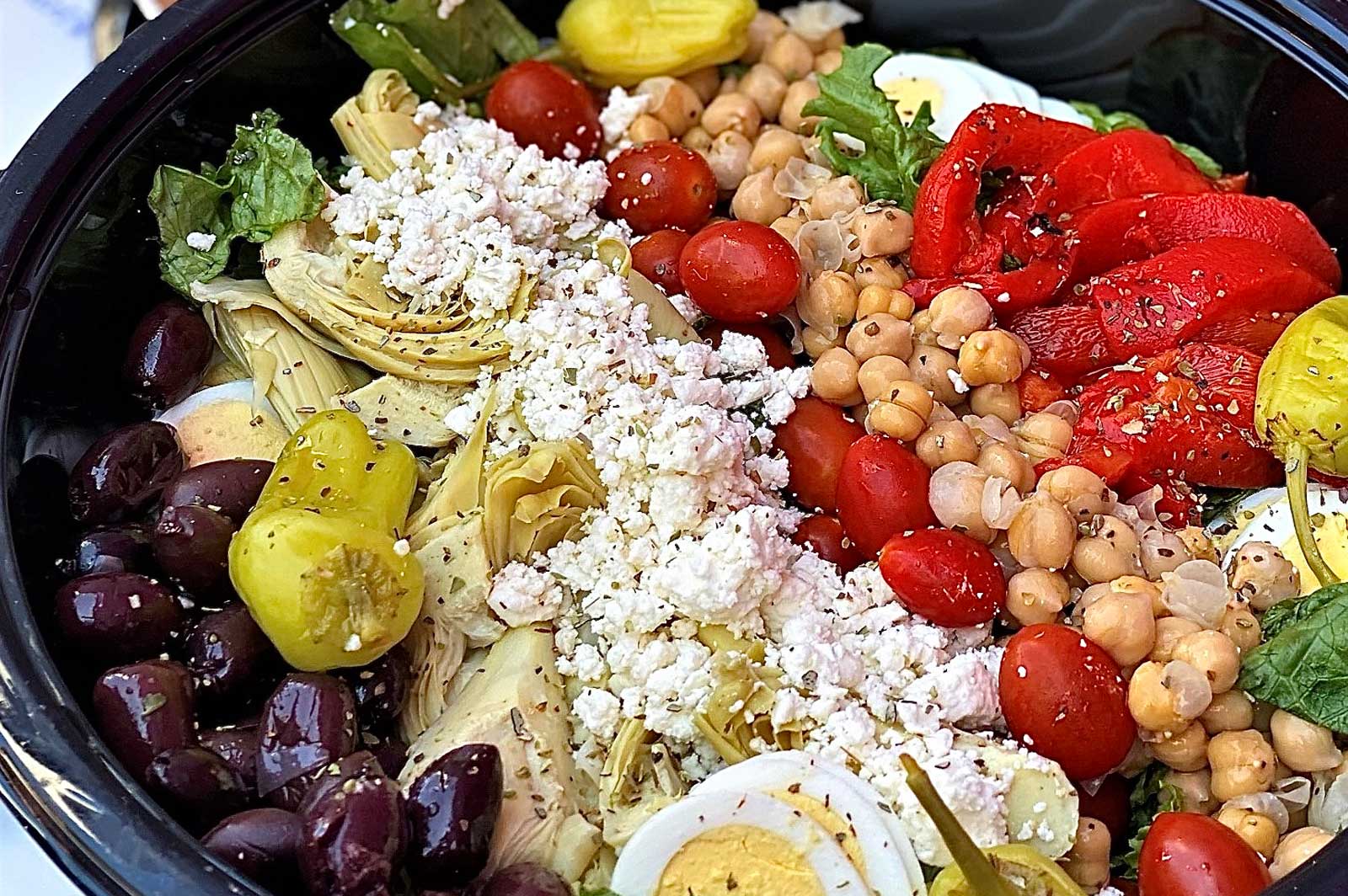 EACH FEEDS 12-14 PEOPLE
MADE WITH FRESH CUT LETTUCE
Snarf Salad

Turkey, Ham, American & Swiss Cheese with Tomato, Hard-Boiled Egg & Chopped Bacon

Greek Salad

ARTICHOKES, GARBANZO BEANS, ROASTED RED PEPPERS, KALAMATA OLIVES, FETA CHEESE, PEPPERONCINI, TOMATO & HARD-BOILED EGG

Cobb Salad

Avocado, American & Provolone Cheese with Tomato, Hard-boiled Egg & Chopped Bacon

Tossed Salad

mixed greens, garbanzo beans, roasted red peppers, tomatoes & sprouts

Dressings

Snarf's Vinaigrette, Italian, Ranch, Raspberry Vinaigrette, Creamy Parmesan
Party Sides
Potato Salad, Macaroni Salad, or Coleslaw
(Feeds 12-14 people)
Pickle Spears
(Feeds 12-14 people)
Ordering Information
We'd like at least 24 hours notice for orders/cancellations but will do our best to accommodate your request
$5 drop off fee (self-setup)
$25 drop off & set up fee (caterer set up) *perfect for business events*
10% gratuity added to all orders
Ask about serving supplies
Gluten-free

GF

options available. Please ask a manager. Additional charges will apply.
Looking for something different? Let's hear it! Additional charges may apply.
For locations, hours and contact information, click here.
Pricing varies so contact your local Snarf's store for more information.