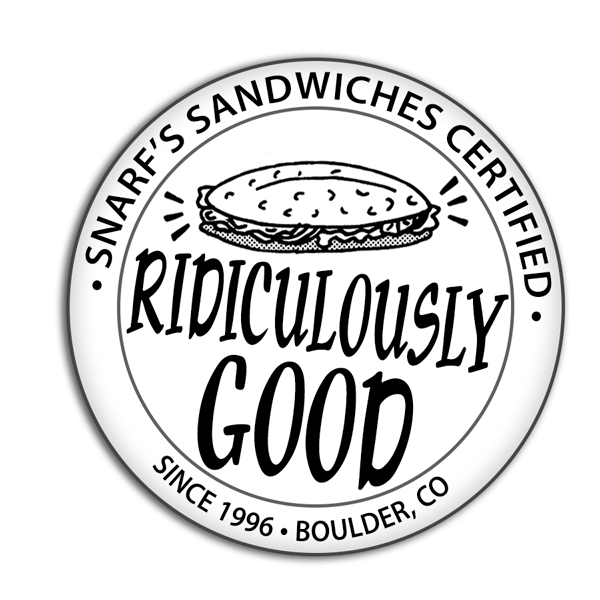 Denver International Airport
Daily Operating Hours Update
Our daily operating hours for the Snarf's Sandwiches at Denver International Airport are temporarily reduced (as shown below), in light of lower traveler volumes.

Denver International Airport, Terminal A (Across from Gate A73)
Denver, CO 80249
Daily Hours
| | |
| --- | --- |
| Monday: | 8:00am – 8:00pm |
| Tuesday: | 8:00am – 8:00pm |
| Wednesday: | 8:00am – 8:00pm |
| Thursday: | 8:00am – 8:00pm |
| Friday: | 8:00am – 8:00pm |
| Saturday: | 8:00am – 8:00pm |
| Sunday: | 8:00am – 8:00pm |
Amenities

Gluten Free Menu
Check out our spot in Denver International Airport! We are in Terminal A's concourse expansion down the escalator of A99, across from Gate A73, and next to Breckenridge Brewery. Stop in on your way in or out of Denver and try one of our award-winning sandwiches. Our menu features a lineup of Snarf's most popular regular and specialty sandwiches as well as grab and go salads, Zapp's chips, daily soup options, and dessert. You can also find our breakfast sandwiches at this location! Thank you to readers of 5280 Magazine for naming us Denver's Best Sandwich in the 2016-2018 Top Of The Town polls!
(Several photos provided courtesy of Denver International Airport)
Denver International Airport Store Gallery